Linda Kalman graduated from The University of British Columbia in 1971 with an Honours BA in Fine Arts. After graduating, she held a variety of jobs ranging from commercial gillnet fishing on the coast of British Columbia to Professional Librarian with the Vancouver Public Library. She has travelled extensively in Britain, Canada, Italy, Middle East and the Caribbean.
Her work is held in private and corporate collections in Canada and the United States. Publications of her work have appeared in Rubberstampmadness (1998), Art Avenue (2002, 2004), and A Heritage Landscape Management Plan for Beacon Hill Park (2004). She is an active member of the Federation of Canadian Artists.
---
Awards
February 2015 +
Each month the Federation of Canadian Artists (FCA) celebrates a member artist with VanCity. Linda Kalman was selected as Artist of the Month for February 2015.
January 2015 +
First Place Award from Federation of Canadian Artists for READER'S CHOICE in the Works on Paper Show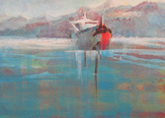 November 2012 +
The Federation of Canadian Artists Award for Excellence for COLD DRIFT
September 2009 +
The Federation of Canadian Artists Award for Excellence for COLD CROW
October 2000 - The Federation of Canadian Artists Award for Excellence for AVALON
March 2000 - The Opus Award for Painting for EARLY RISER
1971 - The University of BC Medal for Arts and Sciences